Hi! I'm Beth, the founder and CEO of Gneiss Spice. My spice journey started in 2009. I was living in a tiny Brooklyn apartment, afraid to open my spice cabinet for fear of the avalanche of spices that would come crashing out. I barely seasoned our food—what spices were in there and how old were they? I was working as a science teacher in the NYC public schools, and I desperately needed a spice system that could help me stay organized and get meals on the table quickly.
After searching for solutions, I stumbled upon magnetic spice tins with plastic tops. I loved the idea of keeping spices in sight and easily accessible—but negative reviews said the tins were not airtight, difficult to open, and had to be replaced often. I was looking for a permanent solution. And I wanted something stylish!
Since no plastic-free, airtight and beautiful solution existed—Gneiss Spice was born!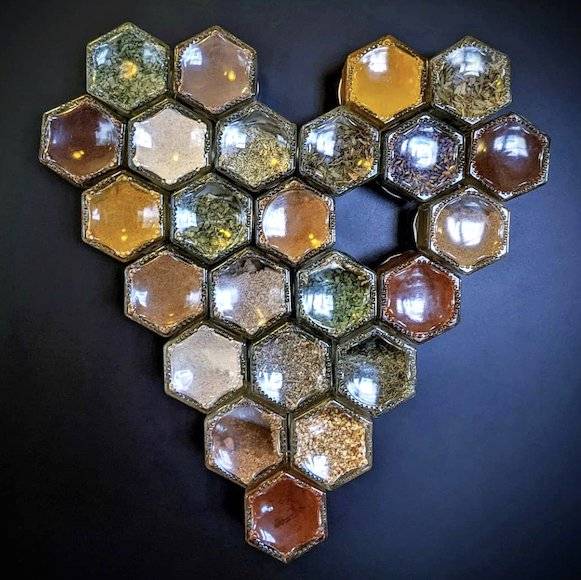 Gneiss Spice exists to transform your messy spices into a functional, efficient and beautifully organized system. Magnetic jars keep spices at arm's reach, making it easier for you to put a meal on the table! No more wasted time searching through cabinets. With spices in sight, taking inventory is a breeze—you won't run out of cinnamon mid-recipe. And since spices aren't hidden in the back of a cabinet, you won't buy that duplicate jar of cumin! You will use your spices more often, becoming an adventurous and confident cook.
Additionally, our jars help you reduce waste by eliminating single-use plastic spice containers. And now that cooking is more fun, you'll cook at home more often, saving money!
Spices are magic. Don't compromise your cooking by using stale spices.
Spices are magic.
DON'T COMPROMISE YOUR COOKING WITH STALE SPICES!
Unlike traditional spice racks, which have a set # of jars, the Gneiss Spice system is flexible. It can grow with you as your cooking needs evolve. Purchase empty jars are choose from 250+ organic spices. When it's time to refill, take your jars to the grocery bulk spice aisle or order our "perfect fit" spice refills, shipped in compostable packaging. It's a zero-waste system!
We use the highest quality materials:
Custom designed smooth-bottom jars showcase spices

Thick and durable glass will withstand damage

Magnetic components are certified food-safe

Jars are assembled by hand in our Maine studio from US and China components

Spices are single-origin, most are certified organic and sustainably harvested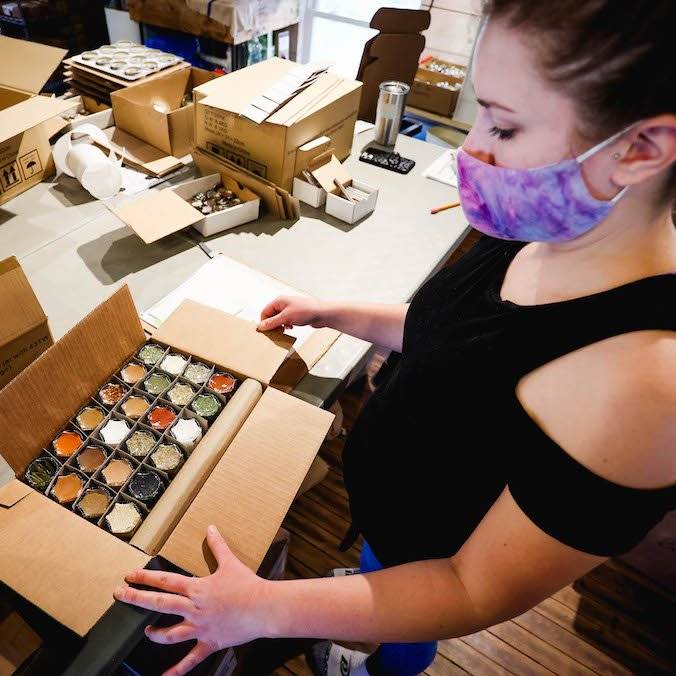 Humans are involved at every level of your purchase. Seasonings are mixed in house. To ensure you receive the freshest spices, we do not stock pre-filled jars. Instead, each kit is hand-filled to order for you. Please allow 2-4 business days for spice orders to ship.
Orders are shipped directly by us. Because we are so human, we make mistakes! But we'll always take responsibility and fix them! We pride ourselves on offering personalized customer service.
If you aren't 110% satisfied with your purchase, contact us and we will make it right.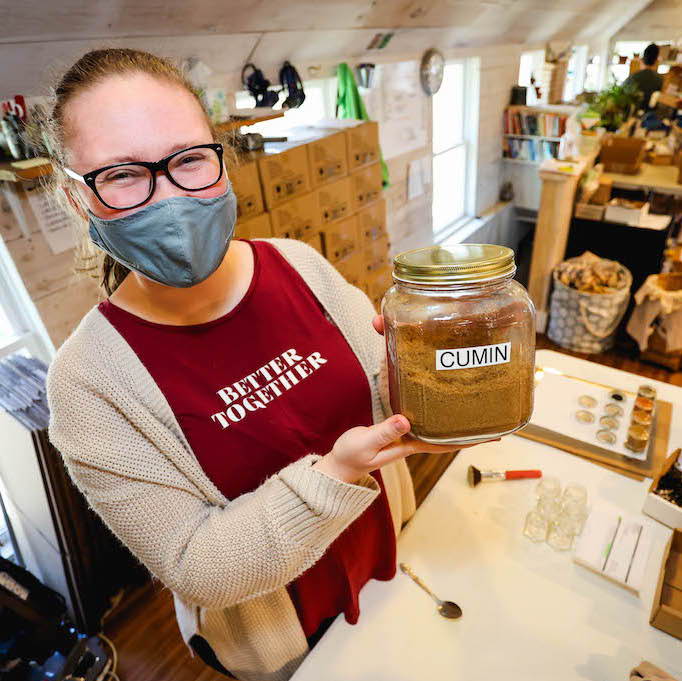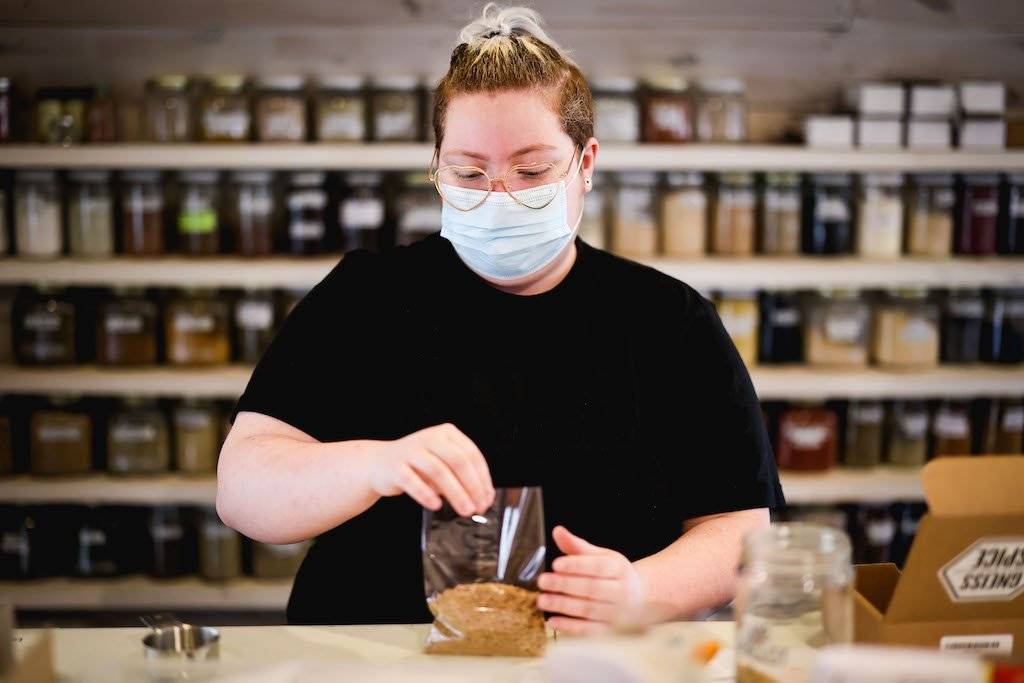 Each day we move closer to our goal of zero-waste. With the re-design of our jars in 2014, the more durable glass allows us to reduce the amount of packing materials needed to get your items delivered safely. The only plastic included is the waterproof clear plastic spice label set. Please let us know if you would like to have the labels removed from your order.

Direction sheets are printed on 100% PCW paper with eco-friendly ink

Shipping carton void is packed with 100% PCW paper

Water activated paper tape seals boxes and is 100% recyclable

Reuse shipping boxes and packing materials

Spice refill packaging is 100% compostable (or substitute paper packaging)

Bulk spices purchased in limited quantity to avoid waste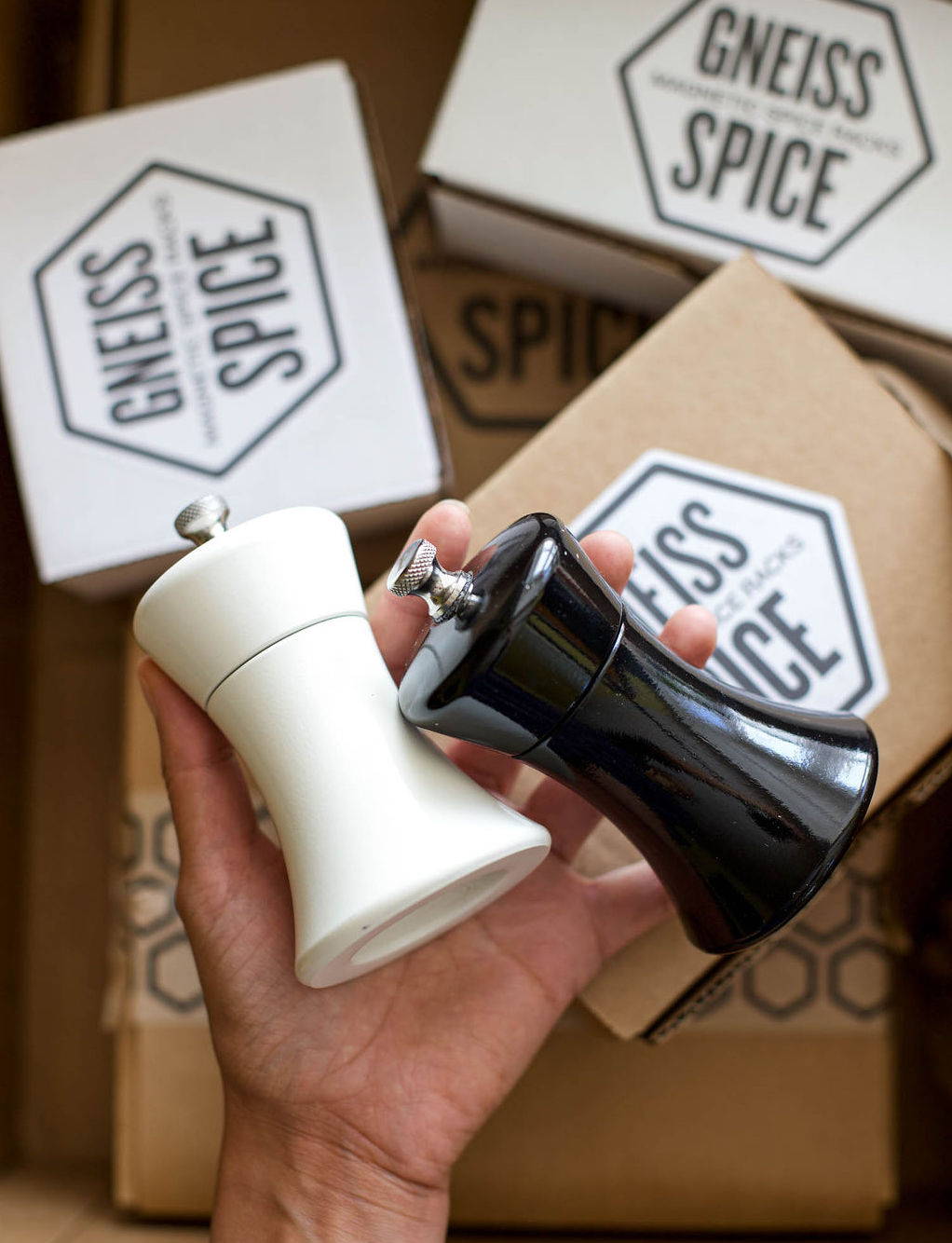 Growing the Rural Maine Economy
Gneiss Spice occupies land which was settled on the traditional, unceded territory of the Wabanaki (Dawnland Confederacy), nestled in the western foothills of Bethel, Maine. We affirm their inherent sovereignty in this territory and honor with gratitude the land itself and the people who have stewarded it through generations.

Mountain biking, skiing, hunting, and outdoor adventure abound. Living in a tourist town has its leisure benefits, but it can be a difficult economy for full-time, year-round employment and affordable housing. Gneiss Spice is passionate about growing the rural Maine economy and addressing housing issues. Employees are paid a fair and living wage, given flexible hours and paid time off. We choose business partners that reflect our economic and sustainability values. Profits are invested in local Maine businesses and housing initiatives that share our vision of a sustainable community.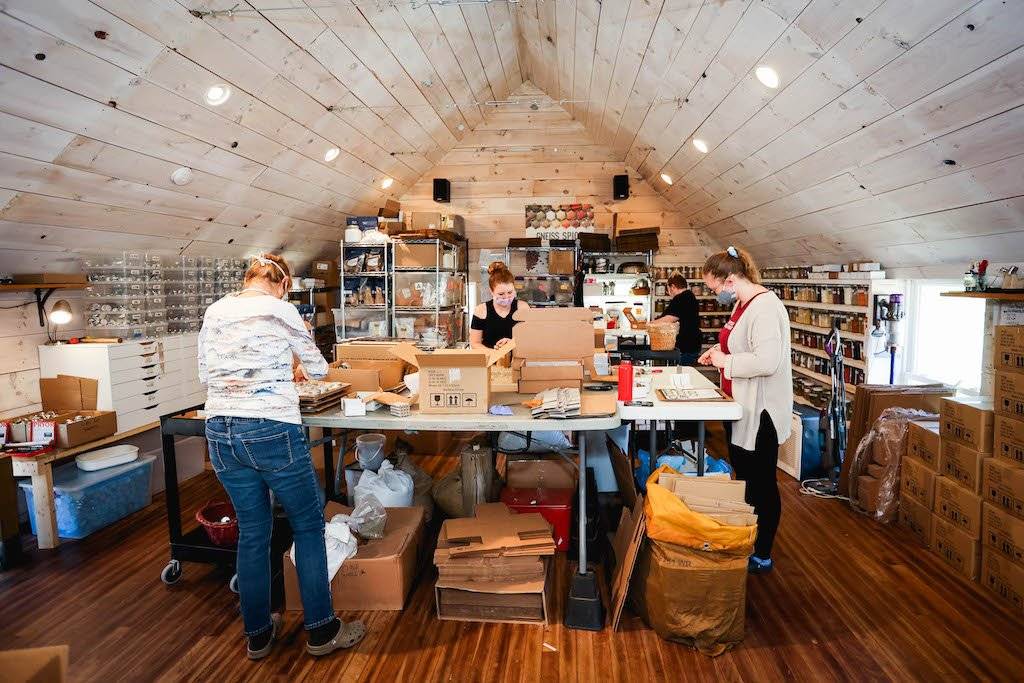 GNEISS SPICE IS PASSIONATE ABOUT GROWING THE RURAL MAINE ECONOMY THROUGH SUSTAINABLE PRACTICES.